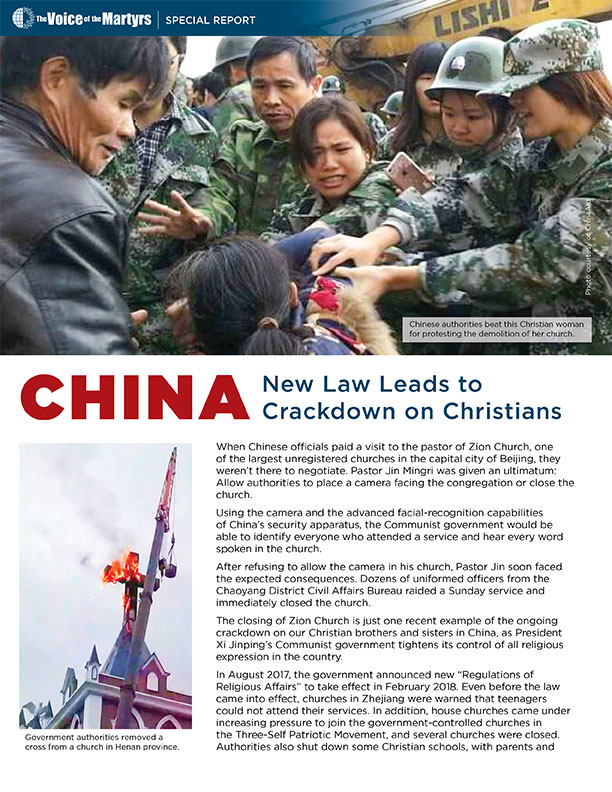 This week, as The Voice of the Martyrs issues a special report on the increasing persecution of Christians in China, VOM Radio is providing a special update on the church in China as well as revisiting some of the memorable guests we've interviewed about the treatment of our Chinese brothers and sisters.
VOM Radio will offer a different China episode, available online or from your favorite podcast provider, each day this week.
Monday VOM CEO Cole Richards and VOM Radio host Todd Nettleton discuss the special China report and how persecution in China is changing.
Tuesday "Brother Joel," who helps VOM distribute Bibles in China, and "Brother Blake," VOM's regional director for the Asia-Pacific region, talk about how changes in China this year are affecting Christians.
Wednesday A Chinese Christian involved in Bible distribution shares about his own family's persecution and how he answers God's call on his life despite the risks.
Thursday "Brother Joel" talks about the risks Chinese Christians take to serve the Lord and serve the church as persecution increases.
Friday In one of the most memorable VOM Radio interviews, "Sister Amber" tells of her arrest and mistreatment by Chinese authorities in Tibet and how she powerfully experienced God's presence amid terrible persecution.
Request a free copy of VOM's special report on increasing persecution in China